Queenie, Lost Circus Dog (Hardcover)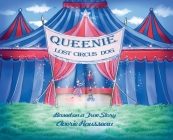 $16.99

Not on our shelves. Usually arrives at The Bookworm in 4-7 days from distributor/publisher.
Description
---
★★★★★ "One of a kind and heartwarming kids story book " - Happy Dad
____
Have you ever heard of adopting a dog that falls out of a circus truck?
Neither had Katie before she heard her grandma's amazing and heartfelt story
Katie discovers that she and her grandma have a lot more in common than she thought.
Should you be careful about what you wish for? Katie does not think so. After wishing for a puppy every single day, Katie's wish finally comes true.
For her seventh birthday, Katie's parents surprise her with her very own puppy. Katie was overjoyed
She just needed a little help naming her new friend. Katie knew the perfect person to help her with this dilemma-Grandma
Grandma gave Katie much, much more than she expected. For the first time, Grandma told Katie the unimaginable, true story about how she found her first pet.
The story is so inspiring that by the time it is over, Katie has decided on the name for her new puppy
Katie and Queenie Series Book 1
From the Publisher
A #1 Amazon Best Seller in its category, Queenie Lost Circus Dog is an enchanting, beautifully illustrated story based on a true chapter from the childhood of Averie Rousseau's mother.
Young Katie wished for a puppy every day and dreamed every night of their would-be adventures together.
On her seventh birthday, Katie's dream became a reality. When she sought out her grandmother's opinion for a name for the puppy, Grandma knew this was the perfect time to share her own story. Katie sat mesmerized by the incredible tale of how Grandma came to adopt her first dog. It was not only inspirational, but it helped to foster a loving and genuine bond between Katie and her grandmother.
To paraphrase Dickens, it was a tail of two generations and truly the best of times