Saint George and the Dragon (Prebound)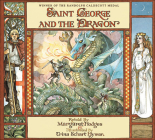 $19.80

Out of stock with distributor/publisher and backordered. Availability dates vary by title and may change.
Without exception non-returnable. For self-published items, we do not recommend ordering due to poor editorial quality.
Description
---
This special new edition of St. George and the Dragon commemorates the 25th Anniversary of the Caldecott Award-winning picture book. Hodges retells an exciting segment from Spenser's The Faerie Queene, in which the Red Cross Knight slays a dreadful dragon that has been terrorizing the countryside for years, bringing peace and joy back to the land.