The Sun Is Late and So Is The Farmer (Hardcover)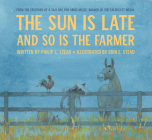 $18.99

On our shelves as of last inventory date.
Description
---
On a peculiarly long night, three farm animals set off on a daring quest to bring the sunrise.

Fans of Erin and Philip C. Stead's books will instantly love this quirky barnyard trio's magical quest to bring the sunrise, in the style of their previous animal books A Sick Day for Amos McGee and Bear Has a Story to Tell.

A mule,
A milk cow,
A miniature horse,
Standing in a barn door,
Waiting for the sun to rise.

As this trio rests in their comfortable barn, a realization slowly dawns on them. . . the sun is late to rise.

After consulting barn owl (who always knows what to do), they take Rooster and set off on an epic journey further than they've ever gone before; through the acre of tall corn, past the sleeping giant, all the way to the edge of the world.

A Kirkus Reviews Best Book of the Year
A Junior Library Guild Gold Standard Selection

About the Author
---
Erin and Philip C. Stead are an award-winning picture book team. Their book A Sick Day for Amos McGee (400,000 plus copies sold to date) won the Caldecott Medal and was named a New York Times Best Illustrated Book and a Publisher's Weekly Best Children's Book. Other popular books include Music for Mister Moon, Bear Has a Story to Tell, an E. B White Award Honor Book. Most recently they collaborated with Mark Twain on The Purloining of Prince Oleomargarine, a major New York Times Bestseller and the recipient of much major media attention including profiles on CBS Sunday Morning and The New Yorker. They live in Michigan.

Praise For…
---
★ "The Steads have created an environment as whimsical and kind as the one that nurtured Amos McGee. . . . A gentle array of soft colors and sweet animal faces quickly engages readers. Onomatopoeia, descriptive phrases, and repetition make this a very endearing reading experience for all. . . .  This meets all the expectations one has of this duo."—School Library Journal, Starred Review

★ "Beautifully illustrated. . . . An endearing new folktale from the Caldecott-winning duo."—Booklist, Starred Review

★  "Waste no time in adding this gem to the storytime shelf."—Kirkus Reviews, Starred Review

"The gentle text . . . leaves space for child listeners to ponder their own dreamscapes. The illustrations . . . contribute moments of subtle humor. . . ."—The Horn Book

"The lulling cadence and gentle, folkloric tone make this an easy pick for bedtime, and Erin Stead's familiar art style underscores that feel with soft dapples, slim linework, and muted tones."—The Bulletin of the Center for Children's Books
 
"A gently comic telling that appreciates creatures' gentle ways and offers a quiet reminder about perceptions' ability to mislead."—Publishers Weekly

"Kid lit has picked up another memorable animal trio with The Sun Is Late and So Is the Farmer . . . . Readers of this disarming and dear picture book will relish being miles ahead of the trio at its center: barnyard animals who are convinced that the sun is worrisomely overdue for its entrance."—Shelf Awareness