This Day in June (Hardcover)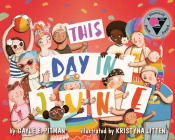 $15.95

Not on our shelves. Usually arrives at The Bookworm in 4-7 days from distributor/publisher.
Description
---
"The pride primer."--The New Yorker "The pride primer."--The New Yorker Top 11 Most Challenged Books by American Library Association (joined by Two Boys Kissing by David Leviathan, The Absolutely True Diary of a Part-Time Indian by Judy Sherman Alexie, Skippyjon Jones by Judy Schachner, This One Summer by Mariko Tamaki, Thirteen Reasons Why by Jay Asher, The Hate U Give by Angie Thomas, Captain Underpants series by Dav Pilkey, A Day in the Life of Marlon Bundo by Jill Twiss, and George by Alex Gino) Winner, Stonewall Book Award--Mike Morgan and Larry Romans Children's & Young Adult Literature Award A Top Ten Title, American Library Association Rainbow List Winner, Notable Books for a Global Society Awards Named one of the most important books of the last decade by The Advocate's "40 Under 40" list This day in June.... Parade starts soon.... Rainbow arches.... Joyful marches In a wildly whimsical, validating, and exuberant reflection of the LGBT community, This Day In June welcomes readers to experience a pride celebration and share in a day when we are all united. Also included is a Note to Parents and Other Caregivers with information on how to talk to children about sexual orientation and gender identity in age-appropriate ways as well as a Reading Guide chock-full of facts about LGBT history and culture. This Day in June is an excellent tool for teaching respect, acceptance, and understanding of lesbian, gay, bisexual, and transgender people.
About the Author
---
Gayle E. Pitman, PhD, is a professor of psychology and women's studies at Sacramento City College. Her teaching and writing focuses on gender and sexual orientation, and she has worked extensively with the lesbian, gay, bisexual, and transgender (LGBT) community. She is the author of This Day in June, When You Look Out the Window, and Sewing the Rainbow. She lives in California. Visit her at www.gaylepitman.com and follow her on Facebook: @GaylePitmanAuthor, Twitter: @GaylePitman, and Instagram: @GaylePitman. Kristyna Litten studied illustration at Edinburgh College of Art. Kristyna is influenced by books and animation from Eastern Europe which has led to a fascination for illustrating and writing her own picture books. She prefers to draw quickly to give an energetic line quality to her illustrations, often adding color and other hand-produced textures digitally. She lives in England. Follow Kristyna on Facebook: @KristynaLitten and Twitter: @KristynaLitten.