1,000 Books to Read Before You Die Page-A-Day Calendar 2020 (Calendar)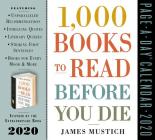 Email or call for price
Out of print per publisher and not available for ordering.
Description
---
A year of page-turning pleasure for browsers and book lovers.

Celebrate the joy of books and the delights of browsing in this entertaining calendar inspired by James Mustich's 1,000 Books to Read Before You Die. With the insight of a bookseller and the enthusiasm of a devoted reader, Mustich shares hundreds of titles that range from the obscure to the immortal, the ancient to the contemporary. From Books for Every Mood and Literary Quizzes to Unforgettable First Lines, Intriguing Quotations, and Book Club Recommendations, the calendar's compelling features cover books for every age and of every subject, style, and genre. It makes addictive reading in itself, and will be sure to add dozens of new titles to any reader's bucket list. So many books in just 366 days!

 
About the Author
---
James Mustich began his career in bookselling at an independent book store in Briarcliff Manor, New York, in the early 1980s. In 1986, he co-founded the acclaimed book catalog, A Common Reader, and was for two decades its guiding force. He subsequently has worked as an editorial and product development executive in the publishing industry. He lives with his wife, Margot, in Connecticut.