Steve Goes to Carnival (Hardcover)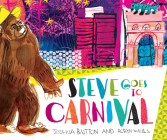 $17.99

On our shelves as of last inventory date.
Description
---
Vibrant gestural art plays counterpoint to an endearing story of a gorilla who wanders the Carnival in Rio in search of his zookeeper friend.

At the city zoo in Rio lives a gorilla named Steve. Steve loves listening to music on the radio with his best friend, Antonio, the zookeeper. When Antonio leaves for the day, Steve feels the quiet of the night and lifts up the latch of his cage to escape and look for his friend. Luckily, he finds a big yellow hat at the tram stop to wear as the perfect disguise. But his adventure turns out to be bigger than he planned, because it's Carnival time in Rio! Fireworks and dancers, drums and tambourines, samba whistles and trombones — can Steve find his friend amid one of the biggest festivals in the world?
About the Author
---
Joshua Button is descended from the Walmajarri people of the East Kimberley, Australia. As a young boy, he spent many weekends fishing and crabbing in the mangroves with his family, experiences that led to his first picture book, Joshua and the Two Crabs. He works part-time as an Aboriginal teaching assistant in Broome, Australia.

Robyn Wells has a degree in fine arts and is passionate about enabling young people to express themselves through language and art. She has lived in the Kimberley, Australia, for many years.
Praise For…
---
A true international animal fantasy...the book's Raschka-esque art—lively, childlike, colorful, and full of movement reflective of music and dance—will keep readers interested and engaged. A compelling, child-friendly tale that will increase readers' global awareness while it entertains.
—Kirkus Reviews (starred review)

Australian illustrator Button loves confident yet naïve lines, with a Picasso-esque air to his portraits and a touch of Gregory Christie in their poses. Painterly strokes (especially tactile on Steve himself) combine with digital touches of color for vibrant effect, and a trickly tracery of lines in a variety of colors compose zoo, city, and club behind our hero. It's a vivacious and offbeat outing, and it'll leave kids peering at fellow commuters in hope of a secret zoological identity.
—Bulletin of the Center for Children's Books