Welcoming Elijah: A Passover Tale with a Tail (Hardcover)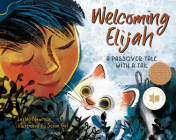 $17.99

On our shelves as of last inventory date.
Description
---
Winner of the Sydney Taylor Book Award and the National Jewish Book Award, Welcoming Elijah by celebrated author Lesléa Newman, unites a young boy and a stray kitten in a warm, lyrical story about Passover, family, and friendship.

Inside, a boy and his family sit around the dinner table to embrace the many traditions of their Passover Seder around the dinner table. Outside, a cat wonders, hungry and alone. When it's time for the symbolic Passover custom of opening the family's front door for the prophet Elijah, both the boy and the cat are in for a remarkable surprise.
About the Author
---
Lesléa Newman has written more than seventy books and anthologies, including the highly successful and controversial picture book Heather Has Two Mommies. She is also the author of October Mourning: A Song for Matthew Shepard and Sparkle Boy. www.lesleanewman.com

Susan Gal holds a BFA from Art Center College of Design and has illustrated several books for children, including Abracadabra, It's Spring! and Here Is the World: A Year of Jewish Holidays. galgirlstudio.com
Praise For…
---
♦ Simple, lyrical text describes how a contemporary Jewish family celebrates the Passover Seder. Inside, the house is filled with light and laughter as a young boy fills the ceremonial cup of wine for the Prophet Elijah, dips parsley in salt water, breaks the middle matzo, hears the story of the Jews' exodus from Egypt, and enjoys the holiday meal. Meanwhile, a small stray kitten waits alone in the dark for the moon to rise. When the time comes for the boy to open the door for the Prophet Elijah, the kitten has scampered up the walk and is waiting to be invited inside. The text concludes: "And that's how Elijah [the kitten] found a home." The luminous detailed illustrations—done in ink, charcoal, and digital collage—use deep gold, black, and blue tones to beautifully depict the contrast between the loving, festive atmosphere inside the house and the dark, still night outside. Readers will delight in finding the adorable white kitten on each spread and will notice how the kitten's actions outside mimic the boy's actions inside. A large, intergenerational and racially diverse family is warmly depicted. An extensive author's note is appended, providing background information about the history and customs of the Passover holiday along with a listing of some of the traditional rituals of the Passover Seder. VERDICT: Anybody who has ever opened the door for Elijah during the Passover Seder will relish this charming, magical, and heartwarming story.
—School Library Journal (Starred Review)

♦ Just as Jewish families open their doors for the prophet Elijah, Welcoming Elijah opens the Seder ritual and invites readers into the festivities. This heartwarming tale of a young boy and a tiny, stray kitten plays out entirely during the traditional meal as the story of the Exodus is retold and celebrated.
Lesléa Newman's (Gittel's Journey) poetic text alternates between the boy's perspective and that of the feline: "Inside, the boy drank grape juice./ Outside, the kitten lapped at a puddle." Inside, readers are engaged with the customs of a Jewish Seder, like filling Elijah's cup, dipping parsley into salt water and singing (the activities are discussed further in an author's note). Outside, the kitten mewls and swings its "skinny tail." Susan Gal's (Bella's Fall Coat illustrator) atmospheric illustrations reinforce the contrasting viewpoints: the child bathed in light and surrounded by family, the cat alone in the dark. This variance, paired with foreshadowing in the early pages--"Tonight would be different/ from all other nights./ The boy knew this./ The kitten did, too"--develops an intriguingly suspenseful tone. Gal's digital collage, charcoal and ink illustrations switch between hot and cool palettes, creating a sense of emotional warmth. Her superb use of line gives a fluidity to the art as well as a tactile impression of texture--readers will likely want to cuddle the furry white kitten with the silky pink ears. Meanwhile, anticipation builds for the moment the parallel paths of boy and kitten veer to intersect.
Together Newman and Gal immerse their audience in the beauty and joy of the Jewish service. This delightful, captivating Passover narrative can be appreciated by readers of any faith.  Discover: The orbits of a Jewish boy and a stray kitten collide during a Seder dinner in Welcoming Elijah, a picture book Passover tale.
—Shelf Awareness (Starred Review)

". . .vibrant. . ."
—The New York Times

Passover nights are different, happily so for a boy and a kitten.
It's a Seder night, and a boy and his large family welcome guests to the festive holiday celebration. There are many rituals in the evening, including filling a cup of wine for the prophet Elisha, but his favorite is opening the door to welcome Elijah in. Writing in contrasting couplets, Newman relates the many elements of the holiday as "inside" activities. There are also "outside" goings-on. A fluffy white cat in the yard does feline things that seem to mimic what the family and their guests are doing except in one respect. The family enjoys plenty of good food while the kitten "swishe[s] his skinny tail." Finally it is time to hold open the door, and who should be standing there but that irresistibly appealing fluffy white kitten. Boy and kitten, to be named Elijah of course, embrace as the others look on in joy. Gal's softly smudged illustrations, rendered in ink, charcoal, and digital collage, warmly reflect the text's contrasts, with bright yellows illuminating the household and iridescent blues bathing the outdoor scenes. The family and friends are racially diverse, with both black- and white-presenting group members. The boy himself presents white; the men wear kippot. While not the traditional holiday outcome, it should please celebrants and cat lovers all.
—Kirkus Reviews

On Passover, inside his warm and cozy house, a boy waits expectantly for his family's Seder. Outdoors, a kitten waits alone for the moon to appear. Inside, the Seder begins. The boy fills the Cup of Elijah, a ritual that welcomes the prophet into the home. The child listens to the Passover story and enjoys a traditional meal, while outside the cat listens to whispering leaves and "ate nothing at all." Readers recognize or learn about nearly all the steps of the Seder while getting to know the roaming feline, its roughly parallel activities shown, split-screen-style, on every spread. The cat's rambles lead to the boy's doorstep at the same moment he opens the door for the prophet: "And that's how Elijah found a home." Gal's warmhearted illustrations, in ink, charcoal, and digital collage, show a diverse, loving extended Jewish family. The art is suffused with light, including golden hues, warm browns, and midnight blues along with textured brushstrokes, subtle patterns, dark outlines, and the whitish-gray cat. Passover-themed details in the text ("Tonight would be different from all other nights," think boy and cat—a nod to the Four Questions), the illustrations (gefilte fish advertised in a market window), and the story's message—let all who are hungry come and eat—will resonate with readers; for those unfamiliar with the holiday, Newman's informative and personal appended author's note provides more detail. Waiting is a feeling with which young Seder-goers will likely be familiar. The protagonist's wait ends not as he expected, but satisfyingly nonetheless.
—The Horn Book