Fuck, Now There Are Two of You (Go the Fuck to Sleep #3) (Hardcover)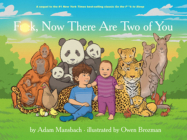 $15.95

Not on our shelves. Usually arrives at The Bookworm in 4-7 days from distributor/publisher.
Description
---
"Adam Mansbach, whose breakout book Go the F**k to Sleep was recorded by Samuel L. Jackson to viral acclaim, has completely shaken up the children's lit space with his profane, candid, and deeply hilarious odes to the trials of parenthood."
--Entertainment Weekly
"Larry David is lending his voice to the audiobook version of a popular children's tale. The comedian will narrate F**k, Now There Are Two of You, the third installment in the Go the F**k to Sleep bedtime story series by Adam Mansbach. The sarcastic potty-mouthed book is more for parents than children."
--Access
"Big expletive] news Adam Mansbach, the author of the 2011 New York Times bestseller Go the F**k to Sleep is back with another brutally honest book for parents. It's called F**k, Now There Are Two of You, and you need it in your home library (just not on the shelves the kids can reach)."
--TODAY Parents
"Now the author of Go the F**k to Sleep, Adam Mansbach, is coming back with another delightfully apt and crude children's book. It's a book for parents who've welcomed their second child and need to explain the new baby to their first offspring, it's going to be titled F**k, Now There Are Two of You--and it's going to be narrated by LARRY DAVID. I don't know how many of you out there have ever thought, 'I really wish Larry David was here to read my child a bedtime story, ' but I'm sure you're all thinking it now, and amazingly, this is a wild, wild dream that's going to come true."
--Funny or Die
"Adam Mansbach's book F**k, Now There are Two of You, the second sequel to the best-selling Go the F**k to Sleep, addresses what it's like to add a second kid to the mix--and nothing is sugarcoated. That's why the prickly 72-year-old comedian Larry David] is the perfect narrator."
--TODAY Parents, from a feature on Larry David's audio narration
"Adam Mansbach, the author of Go the F**k to Sleep, is back with another brutally honest book for tired parents: F**k, Now There Are Two of You. As the sequel's title implies, it's all about the roller coaster that is welcoming a second child into the family."
--PopSugar
"Mansbach hit exactly the right nerve for exhausted parents who were ready to throw their hands up in the air."
--Did You Know?
"F**k, Now There are Two of You, seems brilliantly aimed at skewering the frustrating family dynamic of suddenly having two children to deal with instead of just one. Being an American family of four can be tough as shit, and but thankfully, the 'f**k' book series is here to help."
--Fatherly
Adam Mansbach famously gave voice to two of parenting's primal struggles in Go the Fuck to Sleep and You Have to Fucking Eat--the often-imitated, never-duplicated pair of New York Times best sellers that ushered in a new era of radical honesty in humor books for parents. But what could possibly be left?
Parents--new, old, expectant, and grand--of multiple children already knew the answer. Adam discovered it for himself by having two more kids, less than two years apart.
Fuck, Now There Are Two of You is a loving monologue about the new addition to the family, addressed to a big sibling and shot through with Adam's trademark profane truth-telling. Gorgeously illustrated and chock-full of unspoken sentiments channeled directly from the brains of parents worldwide, Fuck, Now There Are Two of You articulates all the fears and frustrations attendant to the simple, math-defying fact that two is a million more kids than one.
As you probably know by now, you shouldn't read it to a child.
About the Author
---
Adam Mansbach is a novelist, screenwriter, humorist, and cultural critic (in addition to having built an obscene fake children's book empire). His books include Rage Is Back, the California Book Award-winning The End of the Jews, and the best sellers Angry Black White Boy and For This We Left Egypt?, cowritten with Dave Barry and Alan Zweibel. Mansbach was nominated for an Independent Spirit Award for his screenplay for the Netflix Original Barry, and is currently adapting his middle-grade novel Jake the Fake Keeps It Real for the Disney Channel. His work has appeared in the New Yorker, the New York Times Book Review, Esquire, and on National Public Radio's This American Life, the Moth, and All Things Considered.Owen Brozman is the illustrator of the New York Times best seller You Have to Fucking Eat, Kindness & Salt, and the acclaimed graphic novel Nature of the Beast. He has illustrated for National Geographic, Entertainment Weekly, Time Out New York, Ninja Tune, Scholastic, and numerous other clients. His work has been recognized by 3x3 magazine, the Society of Illustrators of Los Angeles, Creative Quarterly, and many more. He lives and works in Brooklyn, New York.