Squanto's Journey: The Story of the First Thanksgiving (Prebound)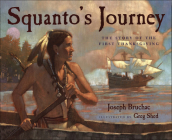 $18.80
Not on our shelves. Usually arrives at The Bookworm in 4-7 days from distributor/publisher.
Without exception non-returnable.
Description
---
In 1620 an English ship called the "Mayflower "landed on the shores inhabited by the Pokanoket, and it was Squanto who welcomed the newcomers and taught them how to survive. When a good harvest was gathered, the people feasted together--a tradition that continues almostfour hundred years later.