The Life of Two Valleys in the Bronze Age: Rock Art in the Altai Mountains of Mongolia (Paperback)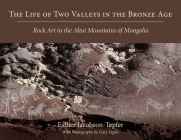 $75.00

Not on our shelves. Usually arrives at The Bookworm in 4-7 days from distributor/publisher.
Without exception non-returnable. For self-published items, we do not recommend ordering due to poor editorial quality.
Description
---
The rock art of northwestern Mongolia preserves vital documentation of prehistoric life in its transition from a hunting-foraging economy to pastoralism and finally, with the adoption of horse riding, to full mounted nomadism. This pictorial record is most abundant within two long river valleys: those of Tsagaan Gol and Baga Oigor Gol. Their location in the high Altai Mountains marks the nexus between North and Central Asia, taiga and steppe, and the center of fundamental economic and social changes from the end of the Ice Age through the Bronze and early Iron Ages. The author and her colleagues were the first to identify, record, and map these valleys and their archives of imagery. By situating this pictorial record within a shifting paleoenvironment and by analyzing in detail subject matter and style, the author has been able to recreate the ancient transformation of culture in a remote and magnificent land.