The Owl Who Asks Why (Hardcover)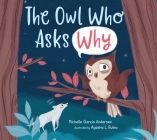 $17.99

On our shelves as of last inventory update.
Description
---
Little Owl and Little Wolf have so many questions for their parents. "Why can't we move our eyes?" "When will I no longer be a pup?" But owls don't ask "Why?" They ask "Whooo?" And wolves don't ask "When?" They ask "Hoooow?" Mom and Dad say it's silly to even consider asking those sorts of questions.

Feeling teased and misunderstood, Little Owl and Little Wolf decide to run away from home for good. After straying too far from the path, the pair discovers that they're lost in the forest and begin to wonder if they've made the right decision by leaving the pack. Little Owl and Little Wolf realize that the only way to make it back to their families is to not be afraid to ask the right questions, their own way.

This heartwarming tale of friendship from author Michelle Garcia Andersen and artist Ayesha Rubio will remind young readers that by staying true to yourself and embracing what makes you unique, good things come to you.
About the Author
---
Michelle Garcia Andersen wrote this story after being inspired by the owls that live in the trees alongside her writing studio. She is delighted to be writing picture books for children; it has been a lifelong dream of hers. When she's not reading and writing, she enjoys hiking, mountain biking, kayaking, walking her dogs, gardening and anything else that gets her outdoors. Michelle and her husband have three teenage kids and live in a home full of laughter.

Ayesha L. Rubio was born in Madrid, Spain, one cold evening in February. Years later, she studied Fine Arts in Spain and England and began to work as an illustrator, collaborating with national and international publishers. At present, she has three books of her own, translated into various languages. Lately, she has made some incursions in the animation world.