It's a Wonderful Life: The Official Bailey Family Cookbook : Gift Set (Holiday Cookbook, Christmas Recipes, Holiday Gifts, Classic Christmas Movies) (Novelty book)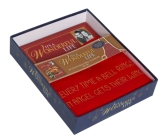 $39.99

Not on our shelves. Usually arrives at The Bookworm in 4-7 days from distributor/publisher.
Description
---
This gift set edition of It's a Wonderful Life: The Official Bailey Family Cookbook makes the holiday spirit of the classic film come to life, through George and Mary Bailey's Christmas recipes and an exclusive apron!

Celebrate the holiday spirit of Bedford Falls with It's a Wonderful Life: The Official Bailey Family Cookbook Gift Set! This set is perfect for anyone who has ever wanted to spend Christmas with the Bailey family, featuring a giftable apron and a cookbook directly inspired by the beloved film.

OVER 50 RECIPES, CRAFTS, AND ENTERTAINING TIPS: Whether you're a beginner or a pro, recipes such as Oven-Braised Corned Beef With Mustard Sauce, Clarence's Angel Food Cake, and classic Mulled Wine are sure to make your festivities a hit among family and friends. This book also includes a guide to holiday crafting and how to throw the ultimate vintage Christmas party.

BRING THE SPIRIT OF BEDFORD FALLS INTO YOUR HOME: If you've ever wanted to celebrate an old-fashioned Christmas in Bedford Falls, now is your chance! It's a Wonderful Life: The Official Bailey Family Cookbook Gift Set will make you feel like you've spent the holidays with George, Mary, and all of Bedford Falls.

THE PERFECT HOLIDAY GIFT: Including an apron that features a quote inspired by the wise words of Clarence Odbody himself, this gift set is a great value for fans of the classic movie.

STUNNING PHOTOGRAPHY: Features hearty dishes perfect for the holidays, including recipes for appetizers, sides, entrees, desserts, and drinks—all photographed to reflect the cozy, warm-spirited feeling of Christmas in Bedford Falls.

CREATE A NEW TRADITION: Pair a meal from It's a Wonderful Life: The Official Bailey Family Cookbook with a reading of It's a Wonderful Life: The Illustrated Holiday Classic storybook.
About the Author
---
Celebrated for its unwavering dedication to quality, Insight Editions is a publisher of innovative books, journals, and collectibles that push the boundaries of creativity, design, and production. Through its acclaimed film, television, and gaming program, Insight strives to produce unique books and products that provide new ways to engage with fan-favorite characters and stories. Under the program, Insight has published books covering the worlds of Star Wars, Game of Thrones, The Walking Dead, Destiny, Assassin's Creed, Halo, Diablo, World of Warcraft, and the Harry Potter films, among many others. Insight's award-winning art, photography, and sports titles celebrate the artistry and legacy of a wide range of subjects that include John Lennon, Kurt Cobain, Johnny Cash, and The Rolling Stones.

By combining rich subject matter, striking visuals, and exclusive content with imaginative design and production, Insight Editions strives to create unique keepsakes that celebrate the best in pop culture and make one-of-a-kind gifts for fans of all ages.