Blitz: Trump Will Smash the Left and Win (Compact Disc)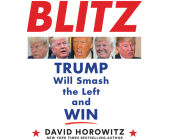 $49.99
Email or call for price.
Description
---
With the 2020 election upon us, New York Times bestselling author David Horowitz chronicles the brutal battles, bitter backlash, and leftwing lies Trump has faced as Democrats repeatedly try to sabotage his presidency. In this book, listeners will discover the left's terrifying socialist and, in some cases, communist agendas as well as these shocking revelations: The nine biggest dangers to America that the left posesThe billionaires and fat cats that are really out to get TrumpHow patriotism suddenly became "white nationalism," linking Trump to Hitler and the KKKThe growing secularism of the left and how the hate pushed against Christians will backfireWhy every effort to demonize Trump and his supporters is failing like crazyHow former president Obama casts a much greater shadow over Trump's political woes than ever imaginedHow Trump's brilliant strategy has worked and will continue to work, making him president again in 2021As Horowitz explains, the effort to remove and destroy our duly elected President may be the greatest challenge America has faced since the Civil War. But Horowitz exposes the left's strategy to take Trump down and reveals how Trump has not only beat them at their own game but how he's going to achieve a stunning win this November.