Harry S. Truman (United States Presidents *2017) (Library Binding)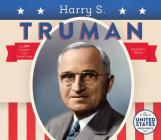 $31.35

Not on our shelves. Usually arrives at The Bookworm in 4-7 days from distributor/publisher.
Without exception non-returnable. For self-published items, we do not recommend ordering due to poor editorial quality.
Description
---
- Historic Photographs
- Primary Source Documents
- Timeline
- Fast Facts
- Benefits and Perks
- Chart of All Presidents' Terms.