Sherlock Mendelson and the Missing Afikomen: A Passover Mystery (Paperback)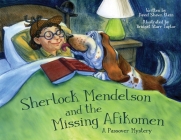 $15.95

Not on our shelves. Usually arrives at The Bookworm in 4-7 days from distributor/publisher.
Without exception, non-returnable.
Description
---
"A joyful and charming Passover tale with kid appeal." -Kirkus Reviews
It's Passover, and 10-year-old Sherwood Mendelson's parents are hosting the Seder. Sherwood's big, loving family have all gathered at the Mendelson home, from Grandma Norma, who brings her "Matzoh Balls That Sank the Titanic," to Sherwood's cousins, the Wilder twins, Zach and Seth, who when reciting the Ten Plagues call out "Zach's breath " and "Seth's soccer shorts " It's a happy Seder until suddenly a terrible thing happens.
After Solomon hides the afikomen-it goes missing. Not missing as it always does at Passover. It has completely, utterly, and thoroughly disappeared. Right into thin air Without the afikomen, the Mendelson family cannot finish its Seder But Sherwood happens to be the Greatest Fan of the Greatest Detective of All Time, Sherlock Holmes. With his faithful assistant, Watson, the family Basset Hound, Sherlock Mendelson uses all of his super detective skills to hunt down the culprit who stole the afikomen.