Exodus: The Exodus Revelation by Trey Smith (Paperback) (Paperback)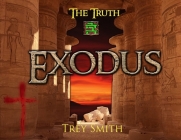 Description
---
Exodus is likely one of the BEST PRESENTATION of the EXODUS ever put into print.
Each plague of the Exodus represents a "god" of Egypt that is being challenged by the TRUE GOD of the universe. These gods begin with a message to the serpent. Each god and his corresponding plague is brought to life in HD imagery and step-by-step explanation.
We begin the book with the true identity of Osiris Egypt's "god of the dead." And, his father Amun one of the grandsons of Noah's son Ham.
We go through the evidence of Joseph in Egypt. Infact, the pyramids themselves are likely symbols of Joseph in Egypt; proven in this material in full glorious color.
Further, you will see where the Hebrews lived in Egypt, as well as learn the mysteries surrounding the Pharaoh of the Exodus. The priests throwing their staffs to become snakes is on his tomb walls.
It is honor that this book even exists, and is the culmination of many years of research. The answers to many of Egypt's largest secrets and mysteries may also come to life in this image rich Exodus presentation.
The book goes hand-in-hand with PreFlood and Nimrod also by Trey Smith. But, it can be read all it own if you wish. The Exodus and the story of Nimrod are both precursors to Revelation.
Enjoy the ride. Simple.