The Circle and the Line: The Jewelry of Betty Cooke (Hardcover)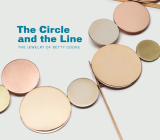 $29.95
Email or call for price.
Description
---
Betty Cooke has been called variously 'an icon within the tradition of modernist jewelry', and 'a seminal figure in American Modernist studio jewelry'. Her pieces have been shown nationally and internationally and are included in a number of museum collections, including the Museum of Modern Art (MOMA) and Museum of Arts & Design (MAD) in New York. She is regarded as an important role model for other artists and craftspeople. Her jewelry style is influenced by Bauhaus and modernism, very simple and pure, both geometric and minimalist; although given her early aspirations to become a sculptor, it is not be surprising that she thinks of her jewelry as sculpture in motion. Her pieces have been sold through museums such as the Museum of Modern Art and the Hirshhorn Museum and contemporary designers such as Keegs in Seattle. Cooke has designed jewelry for Kirk Stieff and for Geoffrey Beene's shows in New York and Milan. Fred Lazarus, former director of Maryland Institute College of Art (MICA), where Cooke trained and taught for many years, has said of Cooke's work, 'There is an enduring timelessness about her work, and today, as she did 50 years ago, she continues to create work that is extraordinary in its clean, spare architectural line and stunning simplicity.' The volume features 160 pieces by Cooke, a fully-illustrated checklist, illustrated essay, "Reflections" by leading patrons and collectors of Cooke's jewelry, illustrated time-line, a selected bibliography, and exhibition history & list of collections containing pieces by Betty Cooke.
About the Author
---
Eleanor Hughes is deputy director for Art & Program, the Walters Art Museum. Jeannine Falino is the curator, of Betty Cooke, The Circle and the Line, September 26, 2020-January 3, 2021 at The Walters Art Museum.