Dead of Night (Hardcover)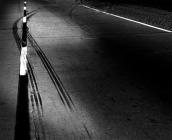 $55.00

Not on our shelves. Usually arrives at The Bookworm in 4-7 days from distributor/publisher.
Description
---
"A hymn to unsolved mysteries discovered in the dead of night" -Diane Keaton
Actress Diane Keaton's fascination with the photographs of county coroner Robert H. Boltz began when a car crashed into a telephone pole outside her grandmother's house, killing both occupants. Between the 1960s and the 1980s, it was Boltz's responsibility to document these accidents, which mostly occurred at night. Now the owner of Boltz's photographic archive, Keaton curates a selection of 32 duotone images alongside Los Angeles-based photographer Nick Reid. With "a richness similar to that of 1930s black-and-white crime films", Boltz's photographs depict the skeletal and gruesome automobile wrecks, without any trace of those who were involved. The absence of any sign of life, Keaton writes, is "a haunting reminder of the couple who died outside Grammy Keaton's home all those many years ago."
Diane Keaton (born 1946) is an American actress best known for her roles in The Godfather Trilogy and Annie Hall, the latter of which earned her an Academy Award for Best Actress in 1977. She has received three additional Academy Award nominations, two Emmy nominations and 12 Golden Globe nominations. In 2017 she received the American Film Institute Lifetime Achievement Award.